Are you a nurse in the nursing profession and looking for the latest nursing magazines out there? Below, we offer a comprehensive list of nursing magazine titles that will likely appeal to you.
Nursing 2022 magazine is the ultimate source for clinical and professional information, the latest news, equipment updates, and more. Nursing 2022 is an award-winning how to journal, published with providing the most practical reading material for nurses. Nursing 2022 is the first choice for quick updates on a range of nursing topics, including but not limited-to clinical & professional information on drugs, diseases, nursing care strategies, and legal and/or ethical matters. The Continuing education section offers abundant opportunities for nurses to advance their skills. Nursing 2022's clinical expertise allows for up-to date expert advice for the fast changing nursing profession.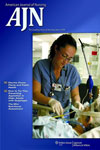 The premier professional journal for today's nurse, AJN, American Journal of Nursing provides comprehensive and in-depth information to help nurses stay current in their profession. Content includes practical, hands-on clinical articles on essential topics.


Published by Lippincott Williams & Wilkins's (LWW) and part of the Incredibly Easy! book series for nurses. The emphasis of Nursing Made Incredibly Easy! is on breaking down challenging clinical concepts, the ones that are often difficult or confusing for the practicing nurse to grasp. Nursing Made Incredibly Easy! is a great Nursing Magazine Journal for both the Nursing Student and practicing professionals in the Nursing field.


***Nursing 2023 is the same product as Nursing 2022***
Nursing 2023 Journal is the #1 source for clinical information for RN professionals and students. Nursing 2023 contains the the latest news in the industry, equipment updates, and much more. Winner of Multiple awards, Nursing 2023 Journal has always been a great source of CEU credit for Nursing professionals and an educational read for the Nursing Student or recent graduate.
Nursing Management is the leading source of practical and cutting-edge information for the management of health care delivery across the continuum of care. Each issue offers convenient continuing-education opportunities specially geared to its readership.